Jyrki Parantainen, Rosemary, 2006
Belonging to the series Dreams and Disappointments from the mid-2000s, all three works by Jyrki Parantainen in the Stiftung Reinbeckhallen's current exhibition, a touch of playfulness, are images of images. For decades, the conceptual artist has been photographing landscapes and staged scenes that he then overlays with words and sentences and alters by adding pins and metal wires to their surfaces. By incorporating language and additional materials into his photographic work, Parantainen presents viewers with a chain of associations and invites them to consider what is not pictured.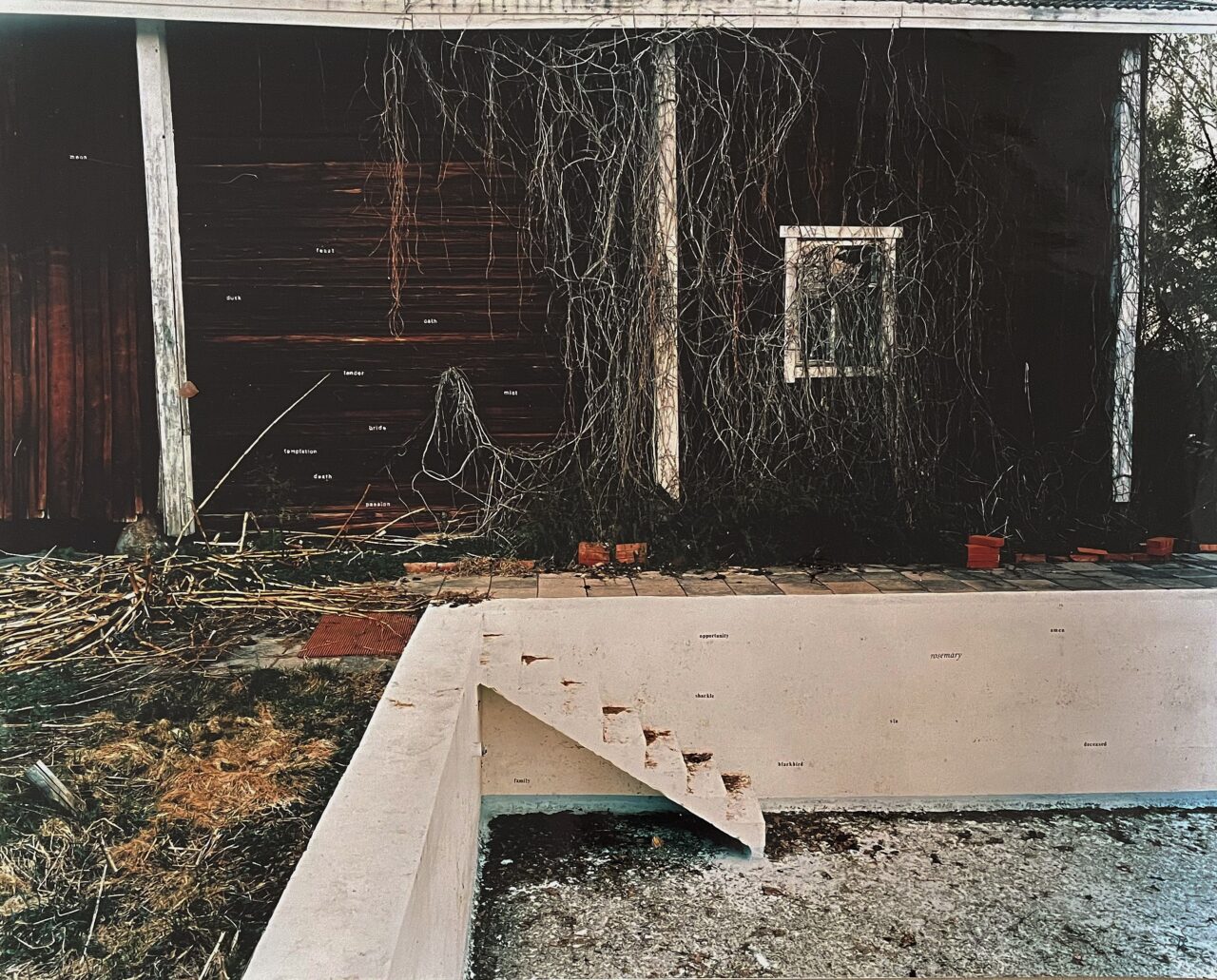 In the case of Rosemary, a C-print from 2006, the artist placed "blackbird," "sin," "family," "tender," "passion," "temptation," and "dusk," among other adjectives and nouns, across the photograph's surface before photographing the altered image. In doing so, Parantainen prompts viewers to consider the relationship not only between photography and language, but also between his carefully selected words and the neglected, seemingly abandoned setting that they simultaneously intersect and contextualize.
Parantainen is a member of the Helsinki School, a group of artists affiliated with the University of Art and Design, Helsinki (now Aalto University School of Arts, Design, and Architecture). This school—developed by Timothy Persons, who completed his graduate studies in Southern California in the 1970s and is credited for bringing the Open Studio approach favoured by John Baldessari and others at the time to Finland—is known for experimenting with photography and using the photographic process as a tool for conceptual thinking.
Dr. Candice M. Hamelin
____________________________________________________________________
Jyrki Parantainen (*1962 in Tampere, Finland) graduated from the Aalto University School of Arts, Design, and Architecture in the late 1990s and held the position of Professor of Photographic Art at his alma mater between 2002 and 2017. His work has been shown in countless solo and group exhibitions around the globe and can also also be found in the collections of the Bibliothèque Nationale de France, Paris, the Museum of Contemporary Art Kiasma, Helsinki, the Mois de la Photo, Montreal, and the Pentti Kouri Art Collection, New York, among others.
Parantainen currently lives and works in Helsinki.
---
Posted on 19 September 2023